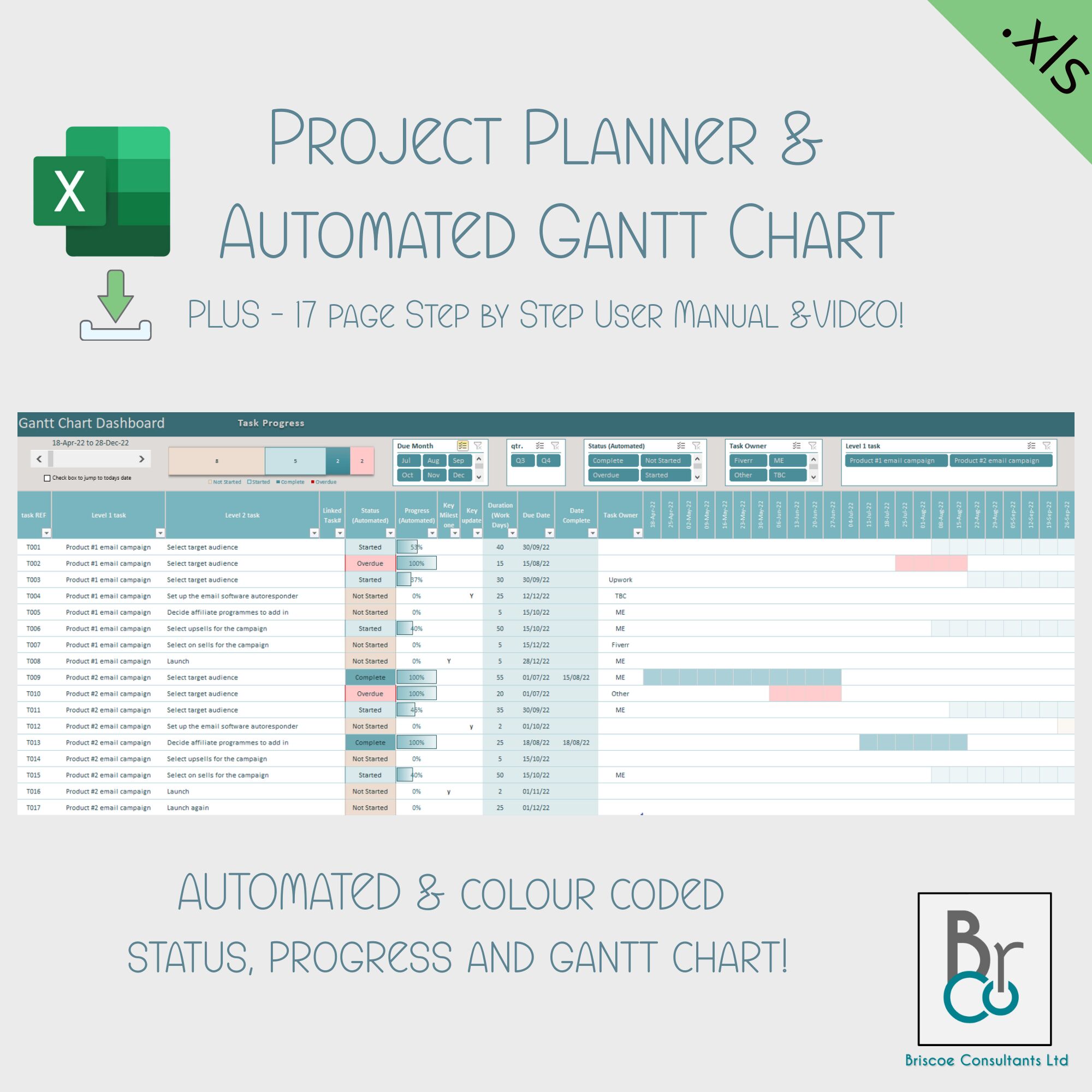 Do you dream of having an AMAZING new software that makes your project management faster & easier but you are….
"Limited" to Excel?
I spent years trying to manage projects with manual updates and begging my managers for an MS project licence but to no avail.
So I built my own!
No special add on's, expensive subscriptions or restricted access software it's just an awesomely automated excel sheet for a simple (& super low) one off cost.
5 Simple Steps to Project Perfection!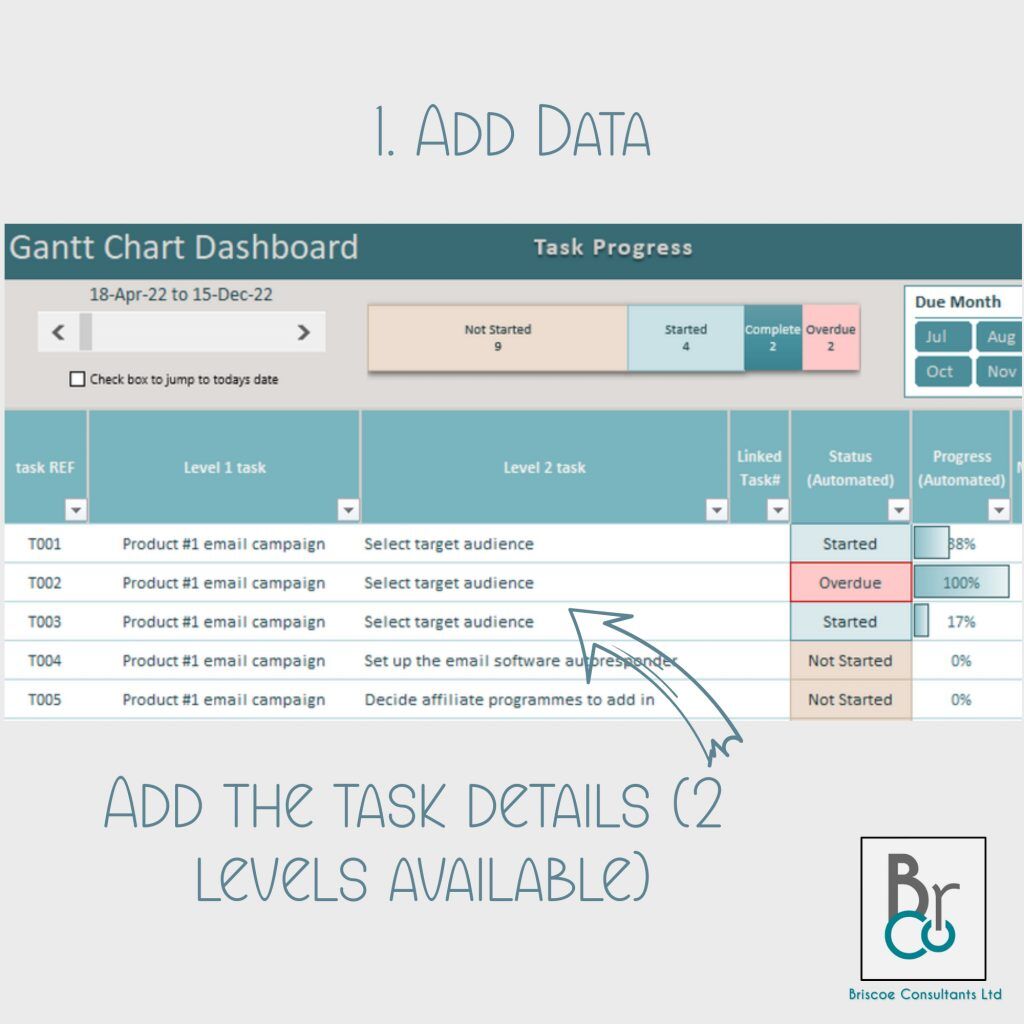 It's super simple to use.
Just add your task ref (if you have one)
level 1 task (e.g. phase 1)
Level 2 task (e.g. scoping, activity, testing etc…)
You can even add linked tasks
More levels can be added easily – just drop me a line and I'll amend it.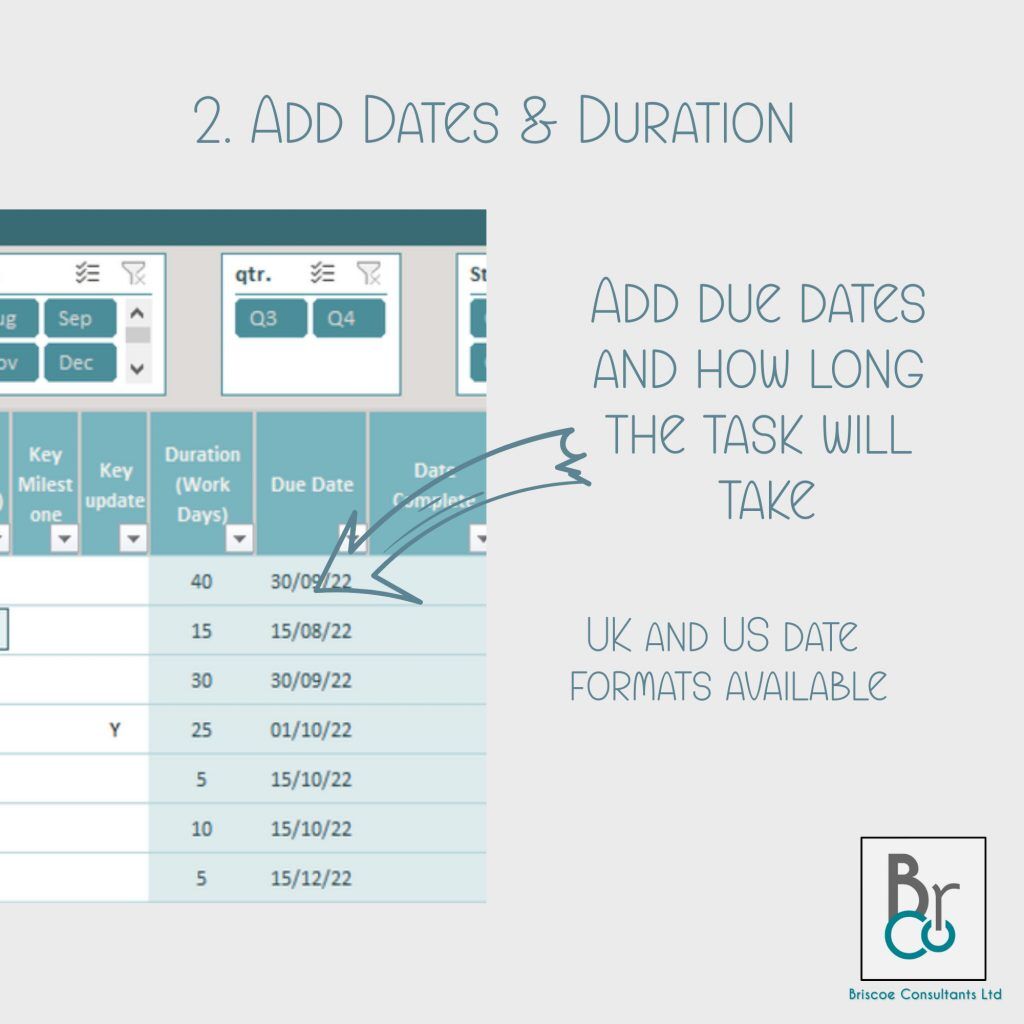 Next add your due dates
Then your task duration
As these dates are added you will see the fields change…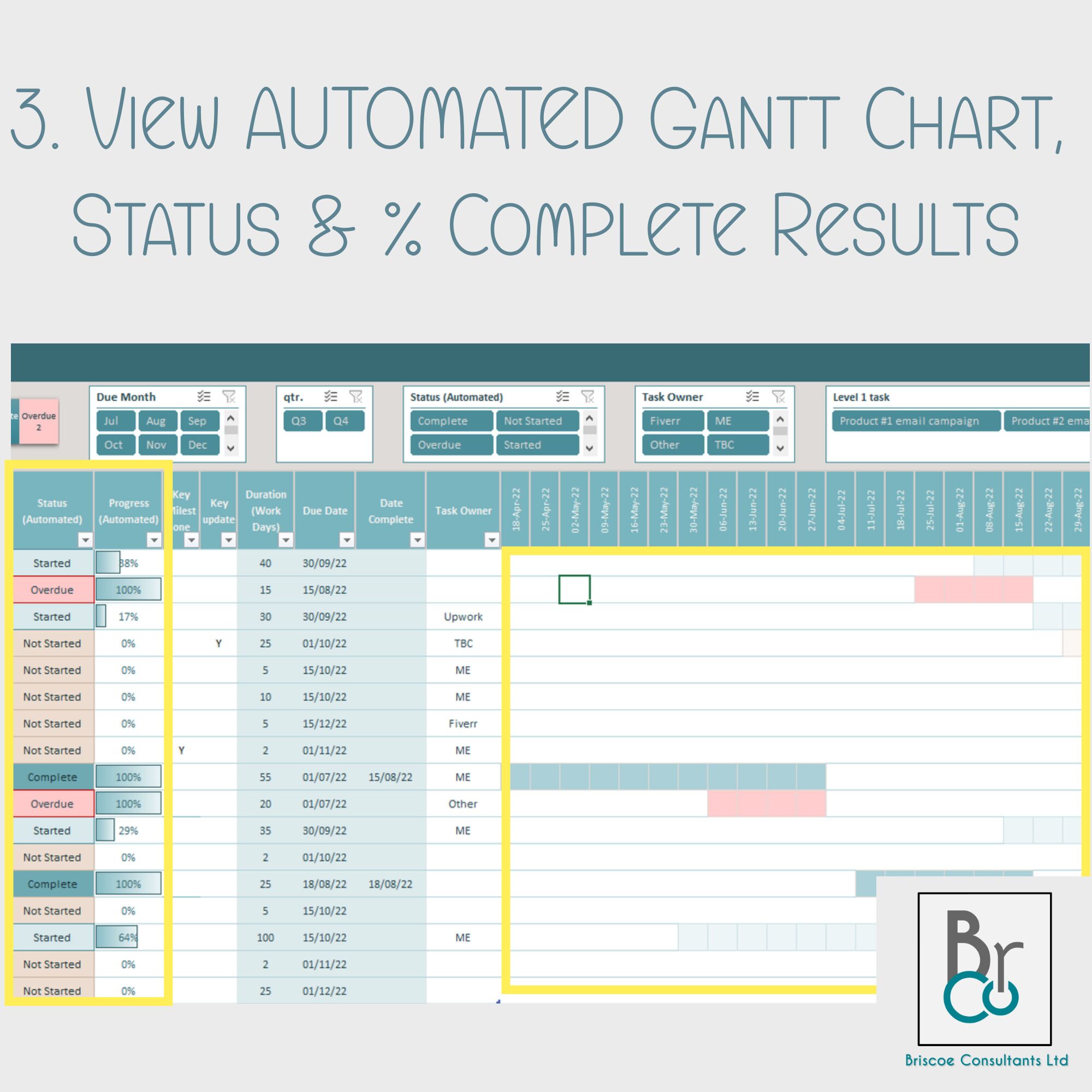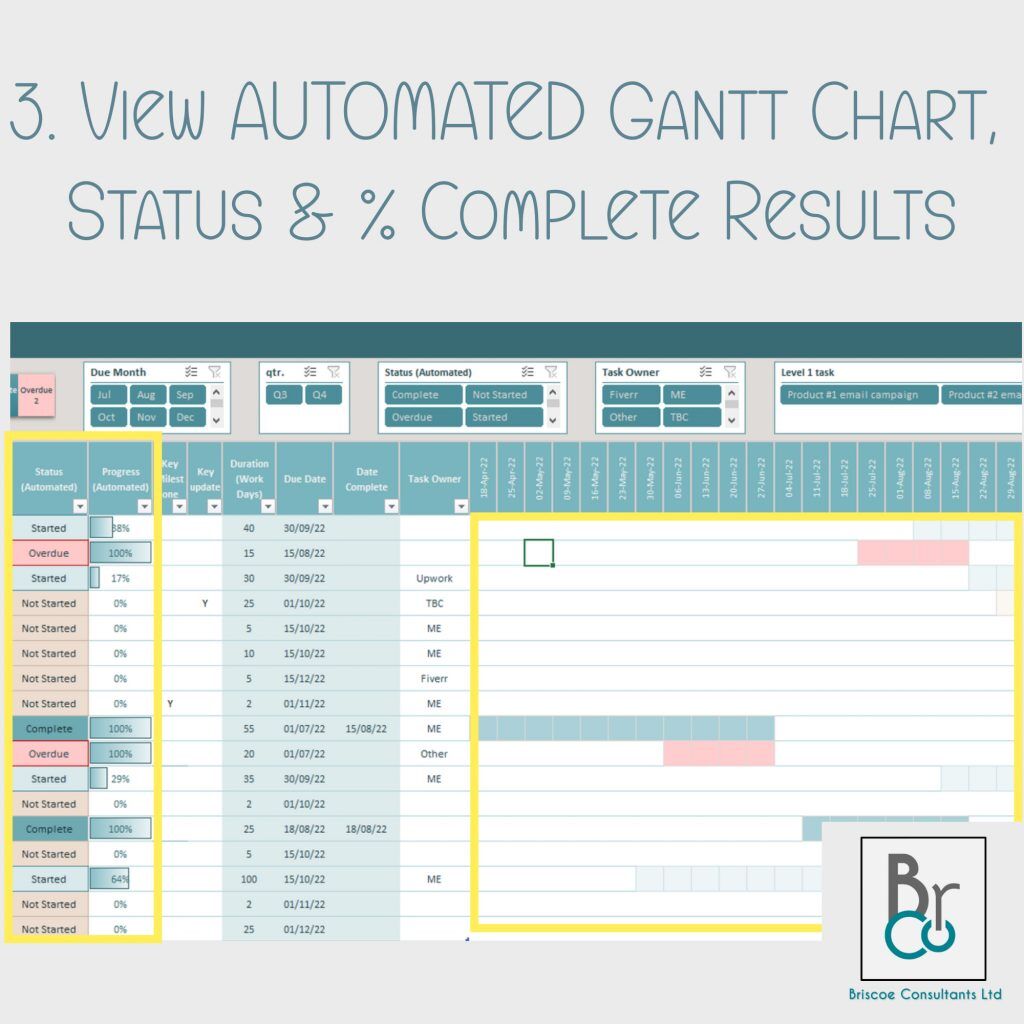 The Gantt chart will AUTOMATICALLY fill in the boxes under the week where that activity lives.
If you add a completed date – the line goes blue (status will change too)
If the due date has passed without a completed date being added the line will go red (it uses a "todays date" formula)
If it has yet to start – the line is beige
If it has started you will get a % complete based on days done and it will be coloured light blue.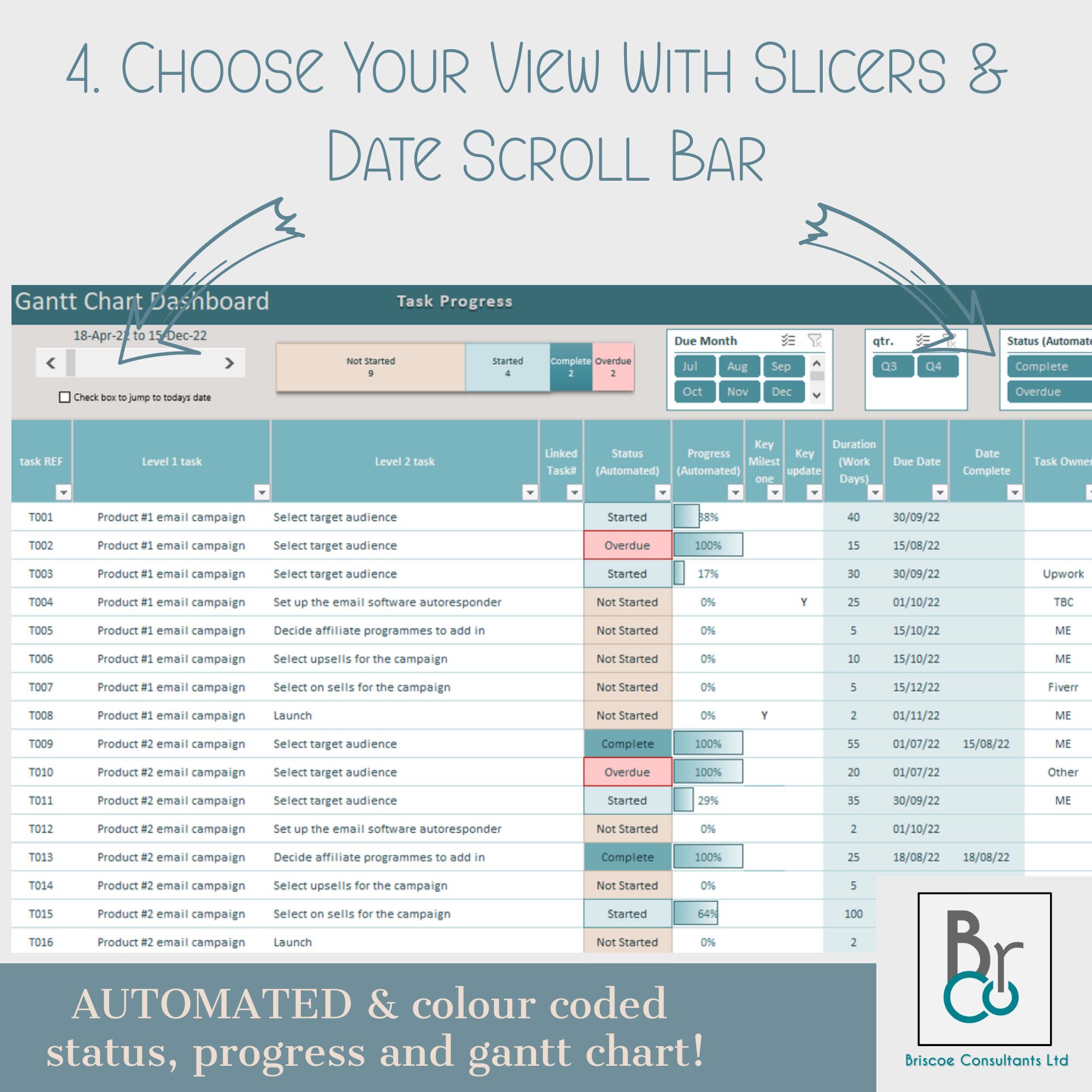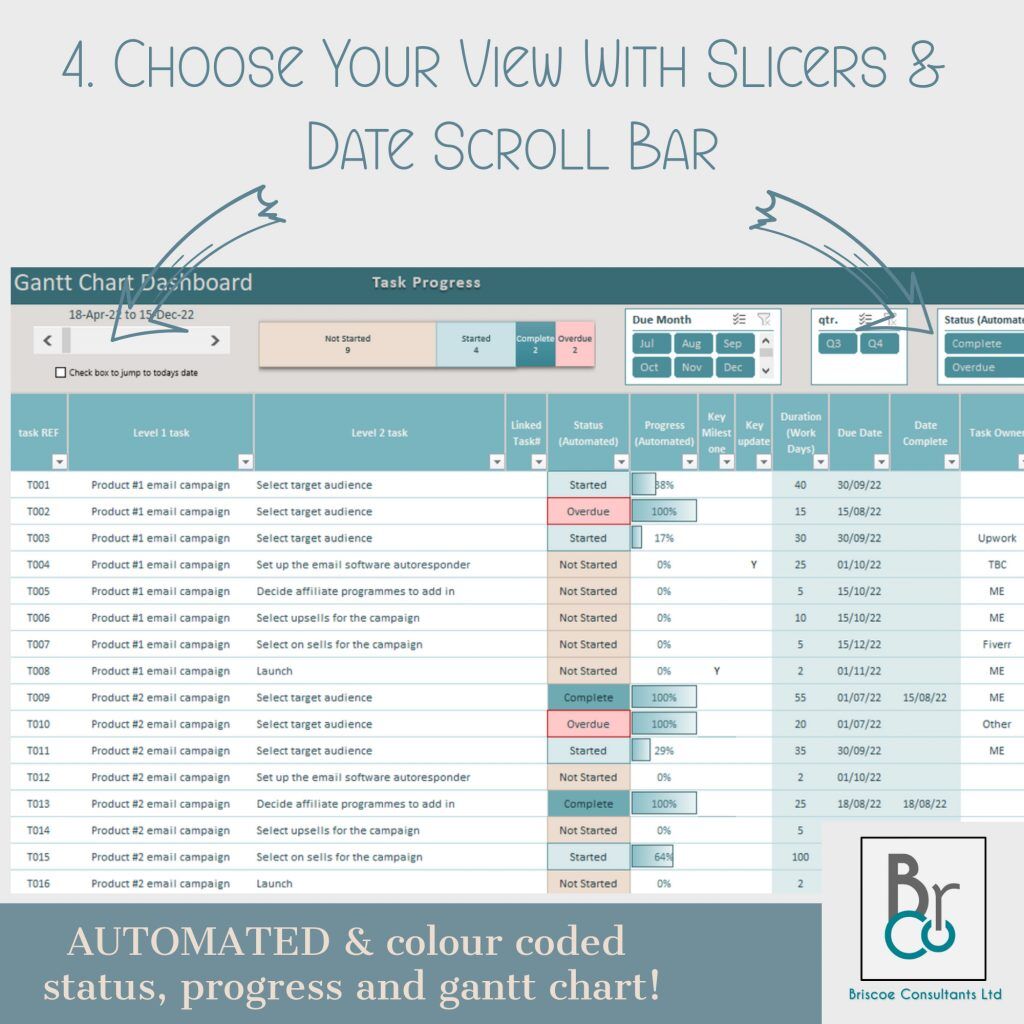 It doesn't matter how much data you add – you can use the slicer selections at the top of the sheet to only see what you need! (I've used it upto 25,000 rows!!)
I've even added a little macro button that will allow you to "jump to today" so the view of the gantt chart of from today forward.
You can easily see how many tasks are overdue, in progress and not yet started.
You can select by year / qtr or month
Or by key milestones / key updates / tasks owner and more!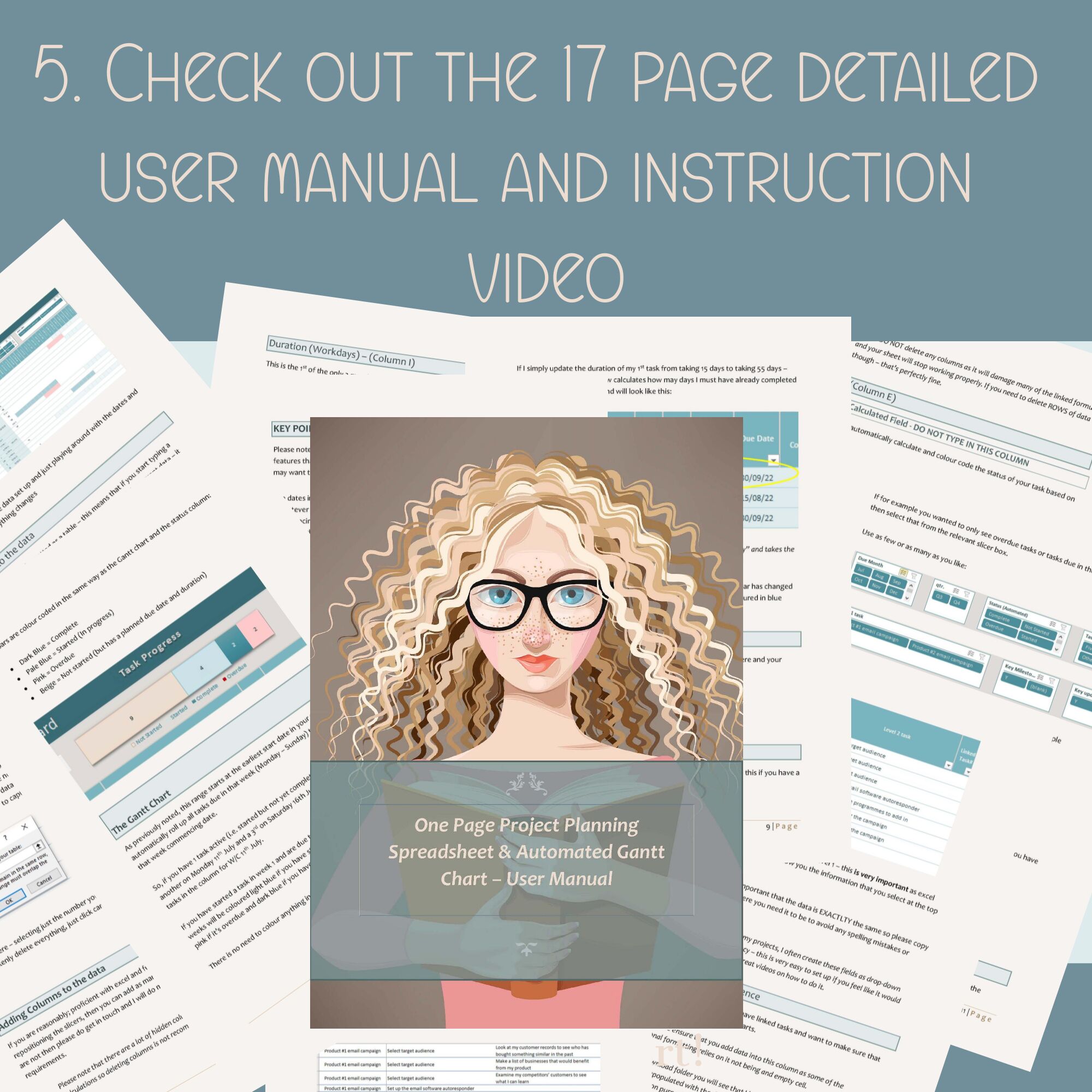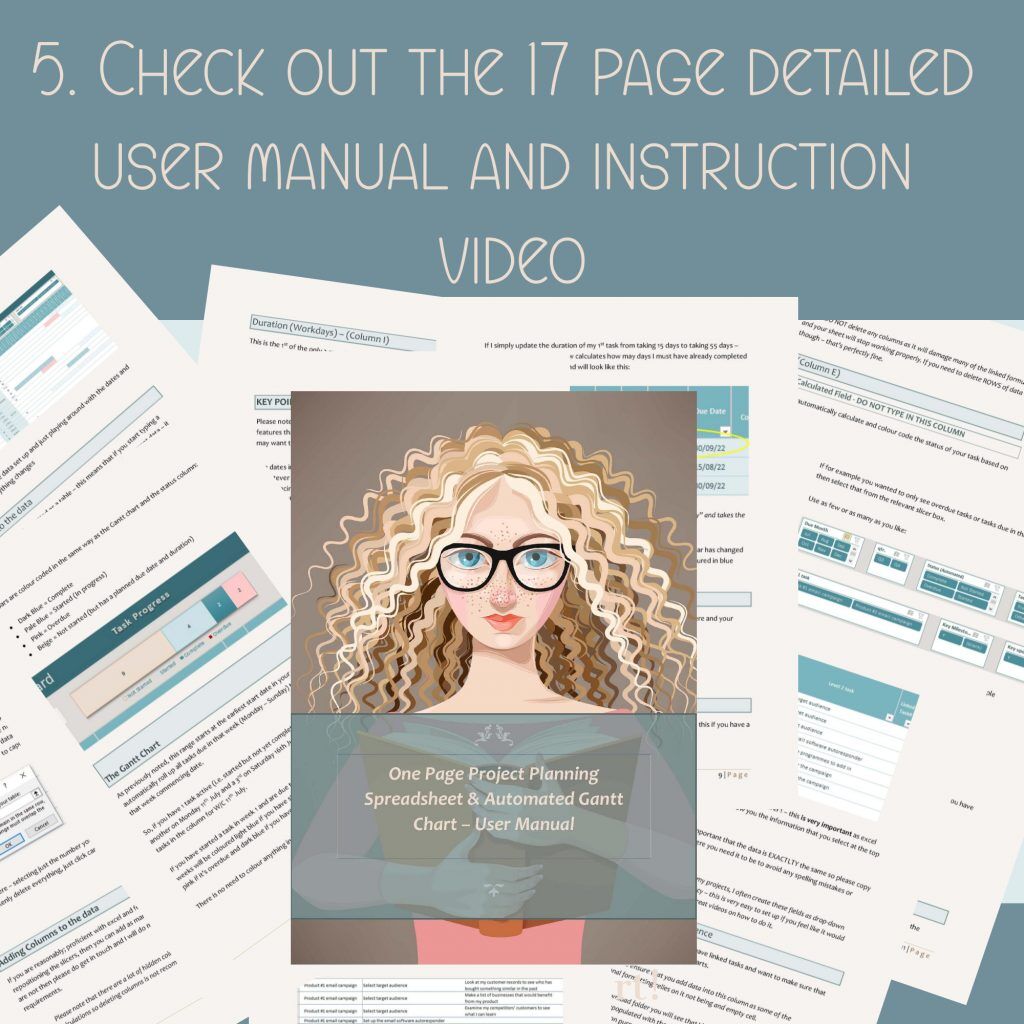 Finally there is a 17 page detailed step by step guide to help you get the absolute most out of this sheet..
…and if you ever need extra functionality or even just different colours – just book a free call with me HERE and i'll do my best to help.
Not sure if this will work for you?
Don't worry – we can make one that will!
Book a call will us today – or send us a quick message and lets see what we can do…!
I have know Lindsey for over 10 years, we often use each other as business sounding boards for our latest crazy ideas and have worked together on a great many projects - I cannot recomend her highly enough - whatever your problem, I am sure she will find a way through it!
"Lindsey was absolutely fantastic! She was very professional and delivered all we requested and more! We are very satisfied and delighted with the job done. Lindsey is highly recommended!"
I've known Lindsey for over 8 years and she has helped my build every aspect of my business - I don't think I would have been able to do it without her!
"Lindsey is great, fully understood our needs, was quick, and produced perfect work. We'll be hiring Lindsey again!"
"Excellent to work with Lindsey, enthusiastic and high quality engagement with my project, I learned a lot, highly recommended"
"I had a great time working with Lindsey, she is a professional investor pitch writer. definitely work with her again, solid 5 stars."
"Lindsey did great work, With great experience in the market and financial studies and business planning, We are satisfied with Lindsey outcome of work, Very professional, Easy to work with, Great communication and great quality of work. Delivered on time and was exactly what we needed and even more. We will continue working with Lindsey in upcoming work needed, Highly recommended for top quality financial professional work."
Thank you so much for your teaching. I was finally contracted to work as high level Business Development Consultant. It almost became a year after we started a sessions. It was really valuable time for me to practice not only English speaking skills but also business thinking. Moreover, it became the ground for me to drive my professional skill as a business development professional. I appreciated your support for all including but not limited to interview practices.